Your brand strategy can transform your client's business, your campaign concept will drive traffic and increase sales exponentially, and your mobile app or website design will kill the competition, but that's not all you need to design.
If you can't sell your concept and get everyone in the room as excited as you are, then all that work is doomed. Your concept and design dies because your pitch is dull and lifeless.
During Creative spark: Selling Your Concept, we'll discuss the ins-and-outs of designing and delivering a killer pitch. You'll learn how to:
Craft your story so everyone's engaged.

Make your stats and data meaningful.

Use images for maximum impact.

Rehearse to build confidence and reduce stress.

Ensure you present with enthusiasm on the big day.
Join us to learn how to inspire action and get results when pitching your ideas. The workshop is limited to 20 people so RSVP now and don't let your strategies, campaigns, web and app designs die on the presenting table because your pitch lacks the energy, life and spirit your design work embodies.
---Presenter Bio---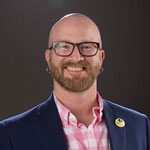 Ashley Bright  with Ashley Bright Presents
Ashley spent the first 15 years of his career in the trenches of the ever-evolving world of digital advertising and marketing. While holding key leadership positions with top marketing agencies, he persuaded Fortune 500 companies, like AT&T, Microsoft and Target, to spend their marketing budgets creating innovative, story-driven experiences for the web, mobile and social platforms.
In 2013, recognizing the growing need for more engaging and successful presentations in all areas of business, Ashley stablished Ashley Bright Presents to work exclusively on presentations. Working with clients like Ventana Medical Systems, StartUp Tucson and United Way, Ashley empowers executives, entrepreneurs and community leaders with the skills and knowledge needed to amplify their voice and maximize their impact.