Tucson Makers, presented by AIGA Arizona, is an annual fundraiser during Phoenix Design Week featuring fast-paced visual presentations by Tucson creatives. This year's theme is Creating Change. From protest songs to editorial cartoons to political theater, art has long been a powerful tool to express dissent, influence policy, and inspire social action. Tucson is home to numerous artists and creatives whose work is motivated and inspired by local, national, and global issues. This year's event is inspired by these courageous individuals, the political climate, and AIGA's own Design for Good initiative.

Schedule: 7:00 p.m. Mingle, Eat and Drink! 7:30 p.m. Presentations begin.

Food trucks: Molecular Munchies and Purple Tree Truck
Presenters:
Jade Beall
Photographer
Jade Beall Photography

Liane Hernandez
Community Life Director
YWCA Southern Arizona
Debi Chess Mabie
Executive Director
Arts Foundation for Tucson and Southern Arizona
Melani "Mele" Martinez
Lecturer - UA Writing Program / Director
Tucson Flamenco Studio
Lisa M. O'Neill
Writer, Editor, Educator, Creativity Usher
Soleste Lupu and Joey Rodgers
Co Artistic Directors
Dancing in the Streets AZ
Kylie Walzak
Lead Program Manager + Cyclovia Tucson Coordinator
Living Streets Alliance
MC: Cathy Rivers
Executive Director of KXCI Community Radio and voice-over talent

Ticket Prices:
$10 Members/affiliates (Tucson Ad Fed, PRSA, TAMA, etc.)
$15 Non-members
Thanks to our generous sponsors, students with valid ID are FREE!

Thank you to our Sponsors: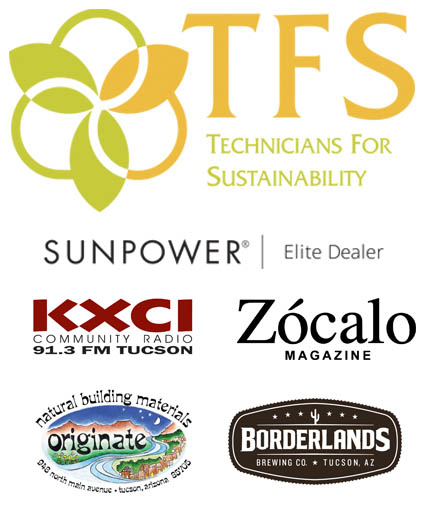 To learn about sponsorship opportunities for this event please contact Julie Ray at 520.329.7175 or by email at juliegraphics@gmail.com
---
IMPORTANT INFORMATION
Your registration constitutes permission to use photos, audio, and video recording taken of you at the event for promotional and educational purposes in connection with AIGA Arizona, and places you on the master mailing list.

AIGA Arizona has adopted the AIGA Code of Conduct with regard to its activities. We reserve the right to refuse admittance for violations of this Code, or other unlawful or disruptive actions. Any concerns should be addressed to the AIGA Arizona president.
Speakers' presentations and viewpoints are their own opinions and do not necessarily reflect those of AIGA Arizona. We are not responsible for the content of every presentation; please be aware that adult language, visuals or topics may sometimes be included.